As soon as a move to San Francisco started to become real- we jumped on craigslist and started learning about the rental market. Some things became clear very quickly and are things that I would want to share with anyone considering a move to San Francisco. So right off the bat:
Rent is insane: 
By insane.. I mean insane. As of right now, February 2017, count on spending $3000/month for a one bedroom (studios for around $2500). Negotiate your salary accordingly. We kept finding that anything below that was more.. ghetto or compromised in other ways. For instance, elevators aren't common in the charming San Francisco houses (of course!) so you have to know that will work for you. Some houses aren't earthquake retrofitted, some (lots) have gorgeous hardwood floors that unfortunately result in you hearing every step of the neighbor above you, and some have gross old carpets. The hunt for an affordable yet decent accommodation is a grind. Each craigslist showing is going to one place- finding out what's wrong with it or fighting for it- rinse and repeat. We did find an alternative to this though!
Foreigners are at a disadvantage: 
There are lots of great and charming apartments, even rent controlled ones, but it can be competitive. Many people show up to viewings willing to pay deposits on the spot, apply on the spot, or even pay more rent. It is possible that a landlord prefers the tenant that has a rental history, recommendations, and credit scores in the US. It's simpler for them then, I think. If one of the regular landlords wants to rent to you- they might require a three month deposit. So in this case you would need about $9,000 before you even bought a piece of furniture or paid the first month's rent! Crazy! This is why I absolutely and wholeheartedly recommend to all foreigners to move into a community building. More on that in a bit.
Public transport may or may not be your friend: 
If your job is in a sketchier area where you or, ahem, your spouse does not want to live- check out what your transportation options to work are and whether it is something you can live with. Some buses and tram lines are great and some are less convenient. Don't assume it is ALL convenient! Try it out during the hours you would take it. If you have to switch lines- that's going so suck long term. You also might be surprised at how a commute from say the Presidio ("in the city") might take twice as long as from the east bay. There is something to be said about being in the city so do look into places such as Glen Park- there is a BART station there and it might make for a super quick commute yet offer more space for the money.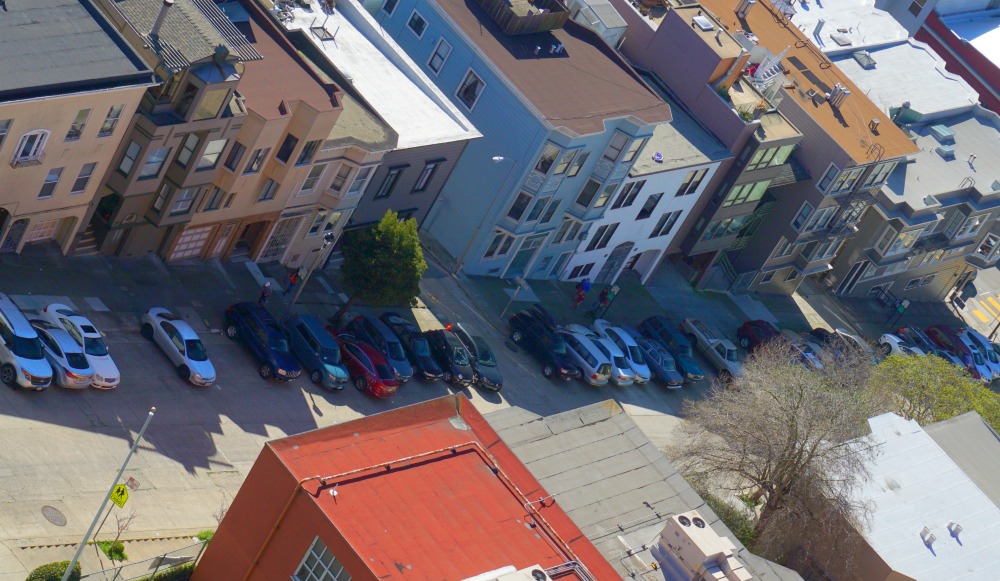 Watch out for those San Francisco hills!!! 
Rent control: 
You will hear lots of people talking about rent control and how it's a must. Basically any building built before 1970 is rent controlled and that means that the rent can only rise so much each year. That said, when an apartment becomes vacant and it is rented again- it's at market rate (as in, the current average price for a one bedroom for instance). That is then your base rent that can only rise by a few percentage points until you move out. Newcomers to the city are therefore able to get rent controlled apartments, but it's not the "deal" that it was for people who were here years ago when rents were lower as they still pay those low rents.
Furniture shopping is crazy: 
It's SF. It's an expensive city. I am merely pointing this out so people can be prepared and budget accordingly. The biggest expense is a sofa. American sofas seem to be different than european ones. We even had the name of an IKEA one we were prepared to get, incase this happened, and it turned out to not be sold here. The main discrepancy is that corner couches/sectionals that cover a corner are not as popular here as in Europe. Check out Zozi's loft for more affordable tables, chairs, and the best value couch in SF. We love ours so much and are perfectly happy with what we paid for it. Most other things were ordered off Overstock and Amazon.
Do note: Many, if not most, SF apartments do not have built in lights in the living room or bedroom- add lamps to your budget! No one can explain to us why this is. ?
So those are the bad news! Here are the good news: 
There are these things called community buildings run by large property management companies and it's easy as pie to rent from them – completely hassle free. We found our apartment on day one!
The pricing will vary as will the reviews for them!
⇒ Random tip: check yelp. I'm serious. People rate their buildings on yelp here.
So say you move into one of the buildings of a larger property management firm (Greystones, Essex, Avalon, etc.): you can usually schedule a tour online before you arrive. They will either hand you an application to fill out or you can fill it out online. Some do not allow online applications without a social security number- no problem! They will give you a paper one. Your application is then put through a background check company (applications cost $30-60/person to cover this) and you will likely be approved just with a higher deposit -due to your lack of credit history. In our case it was a one month rent deposit.
You might be asked to secure the regular deposit straight away- usually something like $300. For this you go to a post office and ask for a money order. It is a pretty simple procedure and the post worker can talk you through it. The building will ask for a cashier's check which is something your bank can do for you, but if you don't have a bank yet the money order is fine.
◊ The pros of renting in a community building:
Easier process for newbies. They tell you where to sign up for internet, they handle trash, etc. You can do most things such as applying for renters insurance online through their platforms. It is super easy.
You see online if something is available and you go and take it. No fighting with 10 others and no haggling over price. You get an individual tour and the service is great.
Buildings are often either new or regularly renovated so you are less likely to encounter mice infestations, hearing your neighbor's every move, etc.
You can still get rent control!
Package acceptance- almost every community building offers this. It comes in SO handy when you're moving in and ordering kitchen appliances, etc. online. In our first days I would often go to the office and find they had prepared all of our boxes onto a trolley that I could just push to our apartment. This is worth gold guys. GOLD.
Balconies! You can often get a balcony!
The newer buildings have great community areas such as rooftop grilling and fire pit sections which are lovely. Gyms are often available too. We have friends that live in such buildings and love it!
Maintenance- any issues and a maintenance person will show up within 24 hours.
Online platforms: we can pay all bills online, order maintenance online, etc. It's super convenient.
Dogs welcome! If you have a dog, especially if it's a large one, a community building might be your best bet. They're usually more lenient on pet weights and have areas for dogs to do their business. Our building has dog treats in the lobby. and we visited one building that has a dog washing station!
Some have zipcar onsite.
◊ The cons of renting in a community building:
You will not get a deal. This will not be one of those "we hunted for months and then found something below our budget!" type deal. Even the older rent controlled ones are rented at market value and not below. It's the same price as average; it is not some random craigslist steal you can snag.
If you are in one of the newer ones that are not rent controlled- your rent can rise significantly from year to year. You might get the first month free and then the next year your rent goes up 10%. No fun. So keep that in mind.
The area is not necessarily nice. The older buildings I know of are all in Inner Sunset- it's my neighborhood and I LOVE it. It is flat out idyllic out here. That said, it is a longer commute to my husband's office – about 35-40 minutes. The newer buildings are often in more ghetto areas in SOMA, off of market street, etc. The ones lower down in the financial district such as on 3rd street are a bit nicer but you will still very much see lots of homeless people around and it can be sketchy at night. Mission bay is supposedly better- I cannot speak from experience. Just be careful as there are lots of new fancy buildings in really really ghetto areas. I find what these places charge for rent outrageous.
No "character." Your community building apartment will most likely not have bay windows and a bookstore underneath. Sorry.
My recommendation as to where to live in San Francisco as a newbie/foreigner and also what we did is: a community building in the Inner Sunset. There are three main choices I have found and all have good reviews, all are rent controlled, and all are close to great public transit, shops, etc.
Avalon Sunset Towers– This building has the best value for money as all units were renovated in the last three years. The kitchens are really spacious and the layouts have lots of built in storage.
Park West– Popular building with great layouts, a gym, and a pool should you be into that. 🙂 It is next to Andronicos which is a pricey grocery store but excellent for those who shop gluten free/vegan/ etc. as they have all the specialty foods. This one is also closest to Golden Gate Park from the three (though they are all close) yet furthest into the Inner Sunset. This one is the priciest of the three.
Mt. Sutro Apartments– These were recently renovated and look lovely! Definitely worth a look.
The Inner Sunset is a very "normal" neighborhood in SF. Lots of fun shops, restaurants, and bars but also lots of families and non tech workers. We did like one of the new buildings downtown (Potrero 1010) but found the layout to be impractical and we knew our neighbors would not be very diverse there, but rather mostly young tech workers – something I am not. That is a pro or a con depending on who you are. Our building in Inner Sunset has people from all walks of life- mostly UCSF staff, families, and also startup people in the mix. It is also a super safe neighborhood. I am regularly surprised at the "crime" ever mentioned on nextdoor (a fb for neighbors) – compared to most other parts of SF it's just laughable.
If you look for apartments on google maps (random tip! Just type apartments into the San Francisco map search) you will see lots of community buildings pop up- they are often one of several buildings around SF owned by that management company. This is a great way to start your search and something you can do well ahead of time before moving. Check layouts, check prices, and check yelp reviews. This will send you down a very satisfying rabbit hole where your apartment hunt will really progress!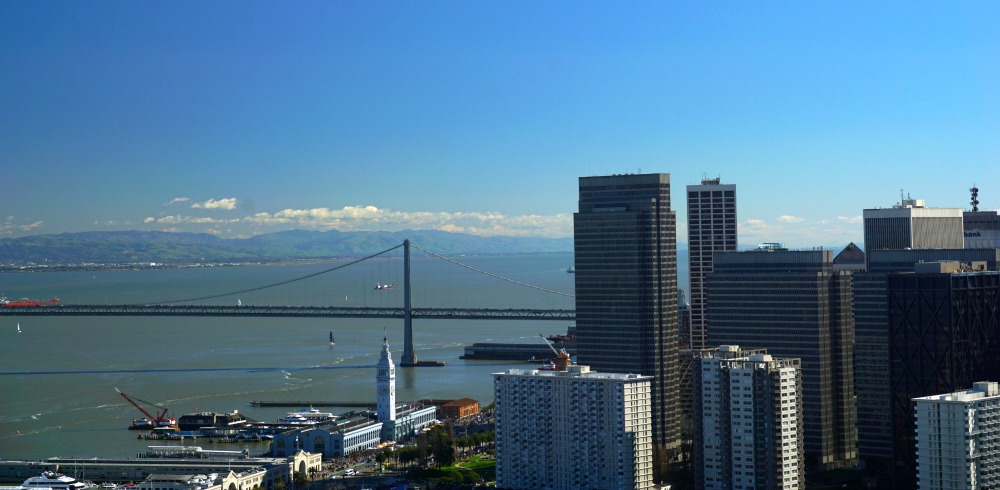 One pro to Financial District/SOMA buildings: some have sea views! 
So there you go friends! My tips for apartment hunting in San Francisco! This was loooonnngg. I KNOW. It is however all I wish I had found on a blog before moving here! So I hope it helps someone.
Must read further reading: 
Further reading for those up to the craigslist deal hunt: http://ohhappyday.com/2013/04/5-tips-for-apartment-hunting-in-san-francisco-our-story/
How to spot a craigslist scam: https://medium.com/@mulligan/how-to-spot-a-craigslist-apartment-scam-at-least-in-san-francisco-e793721b5732#.353srlbka
Checking a neighborhood for safety: http://www.thebigsocialpicture.com/2013/04/is-your-san-francisco-home-safe.html
Best blog post if you are looking for a roommate situation in SF: http://robertheaton.com/2014/10/25/tales-from-a-san-francisco-housing-search/  (Robert Heaton also wrote some excellent posts about job hunting in SF- read them!)
You all now know everything I know! 🙂
Happy hunting!
Mariana