I prefaced my last post with mentioning how we recently got a Prius and how that makes us terribly basic. Here in San Francisco it also makes us terribly crazy! "Who on earth gets a car in San Francisco??!!!" you might wonder… Well, obviously us! Read on to the whys, the hows, and to see if leasing or buying a car in this crazy city is right for you!
One of the first things you read everywhere when you start googling, "move to San Francisco" is to NOT get a car. Only idiots get cars, the city has excellent public transport, there is Uber/Lyft, you can rent one when you need it, and it will never add up to the cost- ever heard of zipcar/getaround/maven/canvas you dork?, and and and. To that I say:
The public transport is not great guys. It's really not. I am so sorry to break it to you. Is it better than many US cities? Sure. There's no subway which really kills the efficiency. You are also riding with a lot of, uhm, characters in certain areas. I have been threatened with stabbing on a bus in the mission for instance. So yeah, not great. I still take it cause I'm not ridiculous but it's not great.
Uber/Lyft are great but get pricy. Again, still use them- we are not so crazy as to drive around in the city for stuff. There's hardly parking!
Rent one when you need one: Sure! If it's summer though you have to reserve way in advance, consider the extra insurances, and going to the pickup stop; You're looking at a cool $100ish/day all in give or take $20-30 depending on what deal you can get. Imagine sitting in your apartment on a Saturday and wanting to get out- you don't just go pick up a car. Either the costs stops you or it wasn't planned enough in advance/you weren't up early enough for it to be "worth it." We've lived in this city for almost 6 months and have hardly seen anything outside of it. Even San Jose is a two hour trip with public! At the end of the day you just don't do it.
Zipcar/Getaround/Maven/Canvas- ALL have mileage limits. With zipcar you can drive 180 miles in 24 hours. That doesn't even get you to Monterrey. With Getaround it's 200. With Canvas it's 500/month and you can pay more for more miles. This is close to the cost of leasing a car and insurance but has the negative that you can't apply for a parking permit in your area with the car and the price is only close for expats with no credit score- it won't help you build credit score as far as I know. There is no commitment required though so it is interesting. Definitely a good option for someone who just wants to explore for a few months and has parking available.
So the limitations with all of the above are what drove us (pun intended! :p) to car leasing. We fortunately live in a neighbourhood where street parking is ample and hassle free. You can apply for a street parking permit for your neighbourhood at the SFMTA customer service centre. It took 15 minutes total and when we're on the year permit (currently on a temporary one until our plates come in) we will be paying $129/year for parking. Should street parking not be an option in your neighbourhood and parking costs in your building too high (*cough* SOMA *cough*), then getting a car in San Francisco is probably not for you! Check out the car sharing options listed above.
The gorgeous Montana State Beach- 25 min away from us. This is how we spend our weekends now! ☺️
Buying vs. Leasing 
The main appeal of leasing to an expat is going to be the shorter time commitment. Leases are normally for 3 years but do have a mileage limit which on average is 12,000 miles per year. More than plenty if you just want the car to explore and maybe a short commute within SF if your workplace has parking.
Leasing appealed to us because it was predictable. A new car is unlikely to have any major issues that need repair in 3 years, most car makers have generous warranties during that time as well. We also knew in 3 years we can give it back and be done should we decide we are done exploring California and uber/lyft will more than suffice. When you lease you are paying the amount that the car depreciates in the 3 years in monthly instalments. So that gets calculated by the dealership and the price will vary based on what sales price for the car you can negotiate.
Buying on the other hand has a bigger commitment in that you are responsible for all maintenance and you have to know your stuff a bit more- esp. if you are buying a used car. We are clueless about cars and so we weren't comfortable with going that route. Yes, you can sell your car to carmax or on craigslist and it is probably financially cheaper that way (the are some really great lease deals out there) so be sure to research which is best for you. However, if you are a new expat keep in mind that you should finance not pay cash. This is purely for the sake of building a credit score! There are 0% APR car loans out there during deal times such as the 4th of July/Memorial Day/Black Friday but I believe you already need to have a great credit score to get those. Honestly the whole credit score thing ended up being more complicated than anticipated and was just more reason why a car lease was better.
TL/DR: Reasons we went with a car lease instead of buying: 
Builds credit
The technology in cars is changing super fast lately. In 3 years there might be a self driving one for all we know or cheaper electric cars with long ranges (the chevy bolt is super promising and so is the tesla x). At this time it is highly likely that we might want a different car in 3 years.
We don't even know if we are staying in SF longer than 3 years- not for sure.
We know squat about cars and couldn't do maintenance ourselves, not much is likely to happen to a brand new car in 3 years
You can sell your leased car at anytime and pay off the balance as well as the price to buy the car. This is great if you went over your mileage allowance and don't want to pay for extra miles, or there is a small dent, etc. IF you negotiated a fantastic price for the car to begin with AND you chose a car with a strong resale value- you might even end up with $$$ in your pocket! Significantly lowering the overall lease price.
Why does credit score even matter? It's San Francisco, it's not like I'm buying a house!
Great question! A good credit score means the best point credit cards (miles!) with the best limits. It means always qualifying for that apartment that people are fighting over. It means being eligible for the very best lease deals or car financing deals. The best banking deals.  And hey, maybe the housing bubble does burst and you want to buy property one day! You never know.
We thought we had a good credit score from diligently using and paying off credit cards. We even got the fancy points card! Imagine our surprise when at the dealership we were told we have no credit score. The financial people at Toyota explained to us that credit card only credit score is not enough. It doesn't even show up for them. We needed credit score from paying off things each month like a phone contract which we didn't have. At this point we were glad to be getting the car to build more credit but also concerned about not getting the price we had negotiated. We had been pretty clear with the dealership that we had a cap on how much we wanted to pay and they had made the offer. We had test driven two cars at this point and spent the whole morning on their busiest day of the year (July 4th) there with one of their agents. They were freaking out about losing a sale. The financial people really went above and beyond to get us approved for the same rate. They submitted our us visa, financial statements, as well as salary information and were able to give us the same deal negotiated beforehand (when they thought we had great credit cause we had said so not knowing!) So fellow expats- Toyota San Francisco will take really good care of you!! They also had better prices than all of the competition I contacted that would have been a complicated long trip out.
When it came to choosing a car… we ended up going with a Prius. I researched a bunch of cars and was really set on getting a hybird. San Francisco driving is brutal out where we are because it is constant stop and go – gas guzzling! Then our desired trips would all be longer where we would save serious $$$ on gas. We recently drove to Yosemite and back and the cost of gas round trip was $16. You just can't beat the Prius' 55 miles/gallon (our average). The other hybrids were all around 40 miles per gallon and Toyota San Francisco's price was so good it wasn't a question. Sadly we have nowhere to plug in an electric or we would have gotten the Chevrolet Volt Electric/Gas combo car. Phil Gileno at Capital Chevrolet in San Jose is your guy for an awesome chevy deal.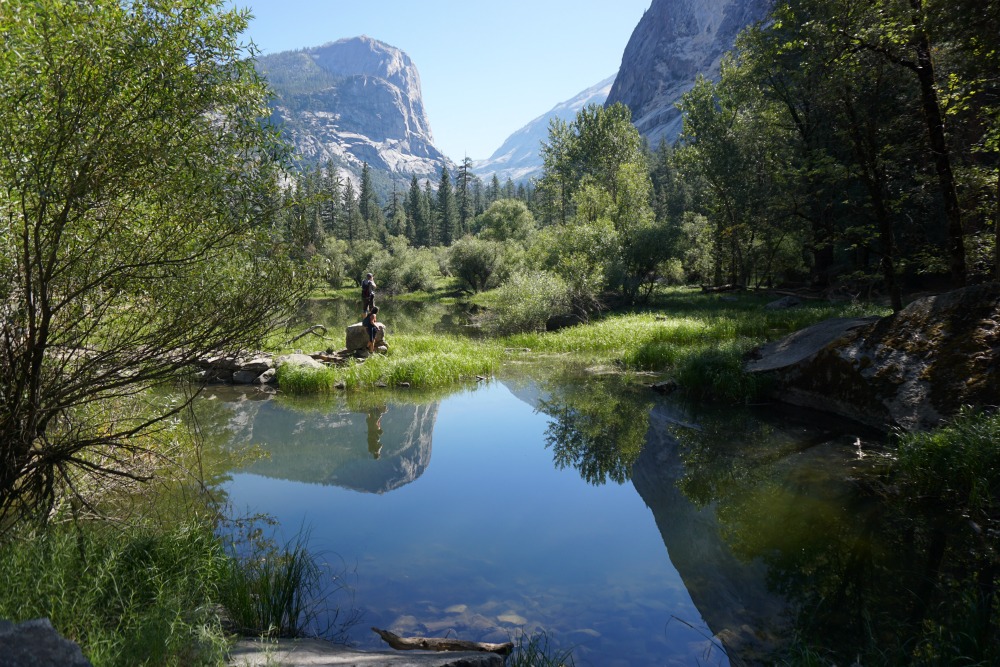 Yosemite- 3 hours away when traffic is light! 
So how do I know all this and how do you know what a good deal is? Leasehackr! Read the site, spend time on the forums, and use their lease payment calculator to double check prices. Before that double check the car price on Edmunds. I got lots of great offers using the Edmunds site and using their instant quote function. Know what a good price for that car is and don't settle. A good dealership can work with you still building credit the way Toyota SF did with us!
International Autosource is a service often raved about in expat forums that I stumbled across too late!! I am so curious to know if that would have been a better deal with their insurance but they have a sign up fee so I won't be finding out. I have only read great things about them though.
As for insurance, we went with Progressive. It was by far the cheapest quote from all of the providers. It is a good $70 more/month than our American friends pay but it gets renegotiated every 6 months and will go down as our driving record here is more established with no accidents. It's a simple process overall. You start the quote ahead of time online and then at the dealership when you are signing you can finish buying it online (you need the car VIN number and the dealership might want certain limits). You then get to drive right off!
We did get sucked into an extra Toyota Warranty at the end of the lease process that I suspect is completely unnecessary… These are the sort of things that we won't be doing again or will negotiate into the lease price when we have a more established credit score.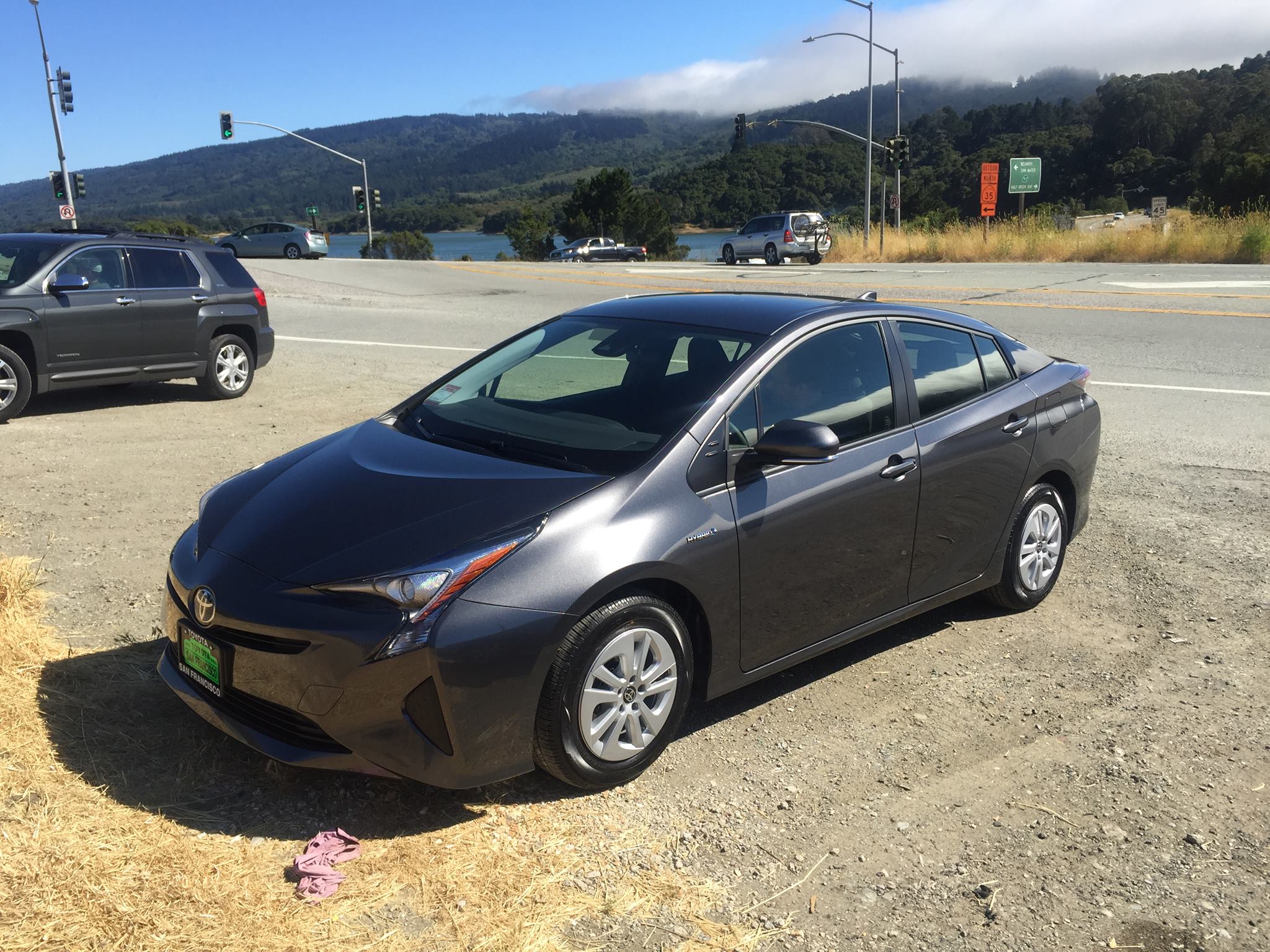 You guys, we're in love with this thing!! The drive to Yosemite and back was a measly $16 in gas! 
All in we are glad we did it! We're loving the freedom that comes with driving to the beach whenever we want, going to concerts wherever, and generally never being limited within the bay area. We go out more, we get more sun (bye Karl!! ☁️) , and we're taking more advantage of living out here. It's been a win all around! Please do your research and think twice if you live in an area with no parking, tons of car break ins, and random window smashing *cough* mission! *cough.* It could all get very expensive very fast. Inner/Outer Sunset, Inner/Outer Richmond, Glen Park, Noe Valley, Twin Peaks, Bernal Heights, Pacific Heights, Cole Valley, etc. are all great neighbourhoods for car ownership from what I've read. So maybe something to consider if you are still planning a move! Check out my post on choosing an apartment here.
And there you have it friends, a very very long post about getting a car in SF! There is so much more to say but at the end of the day it is a very personal and situation specific choice! Post any questions below. I'd be happy to help!
Happy Cruising!
Mariana