Have you ever had a moment where you thought to yourself, "I can't look at another portion of fries again?" No. That's madness am I right? Who could ever get sick of french fries? They are golden salty greasy sticks of deliciousness and such a treat! Alas, if you eat them almost everyday such a thought does eventually come. On our first trip to Disney World two years ago we thought to ourselves exactly this! It was hard to find gluten free and vegetarian food. We had such crappy meals guys. Fortunately our lesson has been learned, more research has been done mostly with the help of the Facebook group: veg disney, and this trip we ate like royalty! I am happy to report that we did not eat french fries at any meal!
Side Note: if you are on the go and need to find food in Disney World NOW and anything here does not strike your fancy- go over to Rachael's fantastic compilation of everything vegan in the parks. It's fantastic. 
1) Pecos Bills – Magic Kingdom 
Our favorite meal at this park was for sure Pecos Bills. It's in frontier land and themed, uh, western style? It's cute and the manager was ever present and knowledgeable on all allergens. The menu for Pecos Bills does not have any vegetarian items on it but don't let that scare you! There are actually two that the cashier has on a menu at her station. One is a vegetable bowl with black beans, roasted veggies, and rice – the other is a fajita platter if I remember correctly! The veggie bowl is gluten free and vegan if you substitute the cilantro rice for plain rice. These dishes are very simple because Pecos Bills has an AMAZING toppings bar with vegan guacamole, salsa, lettuce, corn salad, etc. that you can pile on your bowl to your hearts delight. You can order a side order of beans and one of rice and then fill up on the toppings bar if you want a super cheap meal!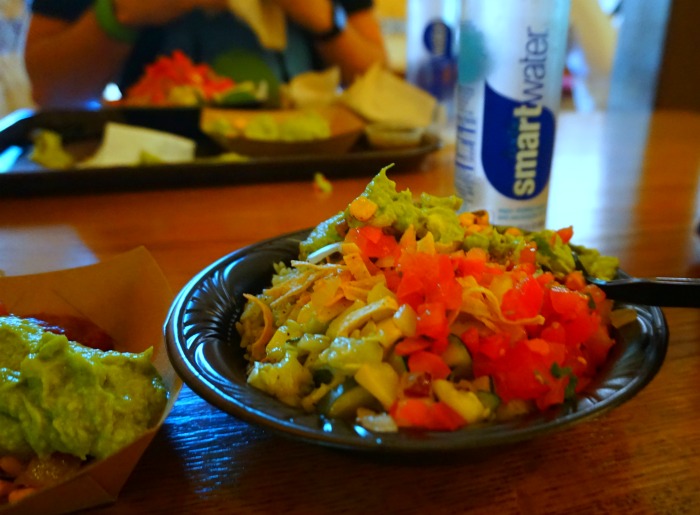 My veggie bowl piled high with toppings as well as extra guac and corn salad on the side- I am shameless when it comes to guac! ?   
2) Tangerine  Cafe- Epcot
Tangerine Cafe is the best quick service location in all of Disney World if you ask me! It doesn't take a lot of clicking around pinterest to see that I am not alone in my opinion. Even better- meat eaters agree! So if you are traveling in a group with omnivores, I can assure you everyone will be happy at Tangerine Cafe (if you like middle eastern flavors that is!). It also has the nicest outside seating with mosaic covered tables and Moroccan styled entryways. I loved the atmosphere as much as the food- and it was a really delicious plate of food!
Veggie Platter- Falafel, Rice, tomato salad, hummus, lentil salad, and olives. The chef here was happy to customize to get rid of gluten.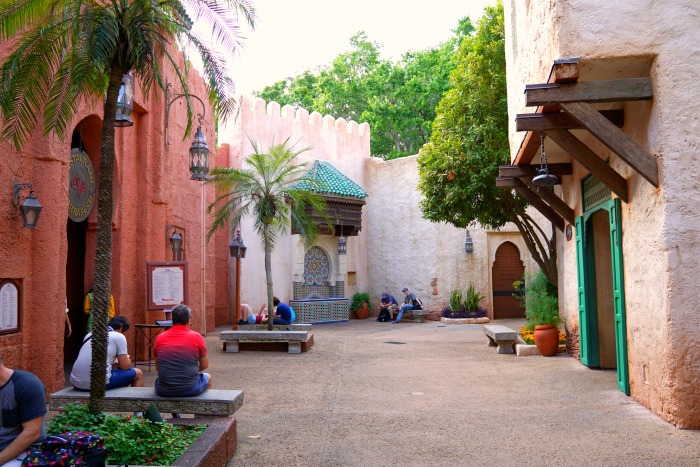 3) Fairfax Fare- Hollywood Studios 
Fairfax fare is listed because it is the ONLY vegan and gluten free quick service option I could find other than pizza from Pizzarizzo- that said, the pizza crust in Pizzafari in AK contains egg as of April 2017 so I am not even sure Pizzarizzo has gluten free and vegan pizza anymore. Hollywood Studios is THE worst park for vegans – allergies or not. Which frankly is not very hollywood of them. Hmpf!
This meal was a baked potato with beans and corn and BBQ sauce from the condiments bar. The chili that Fairfax Fare puts on their hot dogs is completely vegan (odd, right?!) should you want something heartier- I cannot confirm if it is gluten free though as I just went with the beans. The staff here was so great about customizations. Was really no issue at all. It's a decent lower fat (potentially oil fee) meal that did the trick on a day when we had a big lunch at sci-fi earlier.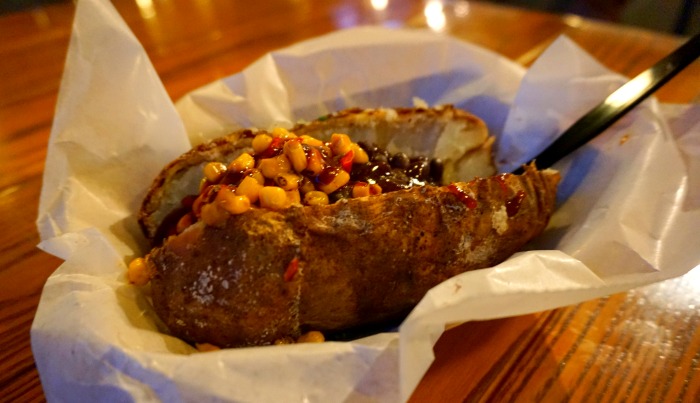 4) Harambe Market – Animal Kingdom 
I SO wanted to try the grilled veggie stack here! But have you ever eaten at AK's Tusker House? You need to be rolled out the door after and so by the time you're ready for dinner – Harambe market is closed! I have heard really good things about this dish though so check it out if you need a quick service meal in this park. The Disney Food Blog did a review on it here. You will need to ask for no pesto for this to be vegan. They do also have vegan side salads!
5) Blaze Pizza – Disney Springs formerly known as Downtown Disney
Basically this place is worth the hype! The gluten free crust is D-E-L-I-S-H. The vegan cheese they use is awesome, and the topping options are so great. I love getting BBQ sauce drizzled on top after the pizza is baked. All crusts here are vegan. Do NOT let the long line scare you. They are super efficient and it moves at a pace you can't believe. It warmed my efficiency loving Austrian heart right up. ?  Sadly I don't have a picture of the vegan gluten free pizza and this is a vegetarian gluten free pizza (because of the pesto base) – trust me that the vegan version is amazing and a total must do!
Note for celiacs: this place is NOT celiac friendly because they use the same dough press for both regular and gf dough. It is otherwise kept on it's own mat in the oven and you can request a fresh pizza cutter. Flour isn't flying around since the dough is made in advance. You would need a clean dough press for your pizza and for the staff to wear fresh gloves (vegans might want to ask for fresh gloves anyways as they do handle meat) as well as make sure the mat is really clean – I believe they are willing to do this but be prepared when you go in that you might have to walk out if it feels unsafe! I watched them like a hawk and was fine but I am not diagnosed with celiac. If you do walk out- Dluxe burger across from blaze should be able to accommodate. It was on my backup list.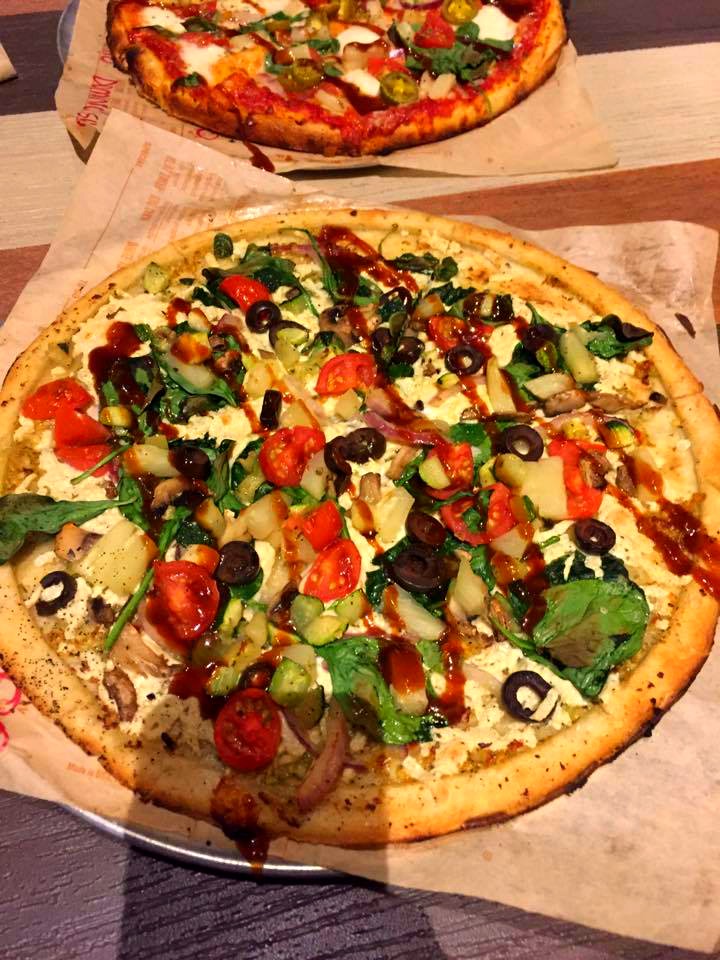 6) Landscape of Flavors – Art of Animation Resort
Man, the hubby and I sure do love staying at Pop Century! We love the price, how the buses are the best on property (we really do treasure efficiency LOL), and that it is clean/comfortable. Get a lake view king bed room here (I will post my trick! Promise!) and you might as well be in a higher category. The best part? The short walk to Art of Animation and their awesome awesome food court.
I have encountered vegans working behind the counter here and so I'm particularly happy about my information on this place. Art of Animation sells smoothies and two are vegan: the green one made with coconut water and the chocolate peanut butter one made with vega protein powder. Both are snack credits on the dining plan and would be great at breakfast! We returned here late at night after many a park day craving something healthy and going for green smoothies and salad from their build your own salad bar. Yummy and a counter service credit on the dining plan as the CM's are super nice about letting the smoothie be your drink!
This is in general the most accommodating food court. There are regular posts on the Veg Disney FB group about things they have done for members such as gluten free and vegan mickey shaped waffles and pancakes. I'm not sure I'll ever be up for staying anywhere other than Pop or Art of Animation because this food court is just the best.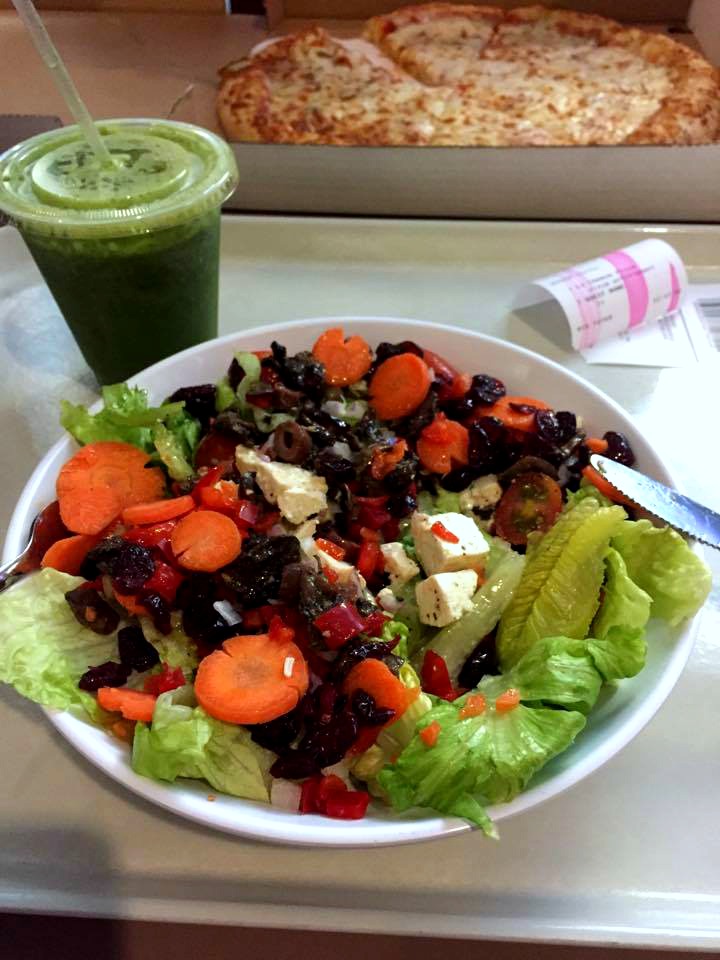 So these are my favorites! Have you found other great gluten free and vegan counter service meals at Disney? Do let me know in the comments below!
Smiles,
Mariana