Homesickness. An ailment that affects all expats at one point or another. My hubby claims to never experience such a condition, yet he orders traditional vegetarian Austrian dishes in every restaurant whenever we are home. Funny, I don't remember there being an obsession with Käsespätzle before the move?
It was this particular condition that possessed me to hoard an empty box of Müsli in our tiny Dublin apartment. Yes. After I finished the box, I kept it! Partially because, as I sighed to my husband, "it's the best Müsli I ever had!" and the other part being that I consumed the first half of said Müsli box while frolicking freely under the Vienna sun. I tried to find this delicious Müsli online from a place that would ship to Ireland reasonably but to no avail. So what is a homesick girl to do?
I made it myself.
This recipe was recreated to the best of my abilities with ingredients easily available. I omitted the toasted coconut flakes and have to admit- they were missed. So maybe consider adding those. Otherwise, this is a mighty fine crunchy Müsli that is simply lovely to snack on while getting lost in an internet black hole. It kills all chocolate cravings to boot!
This recipe is featured in Vegetarian Mamma's Gluten Free Fridays linkup! Click on the link and find all sorts of other gluten free goodness!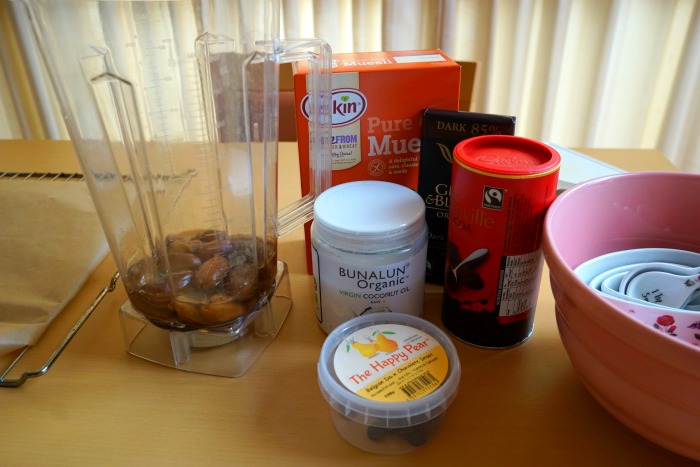 Ingredients out, let's get started!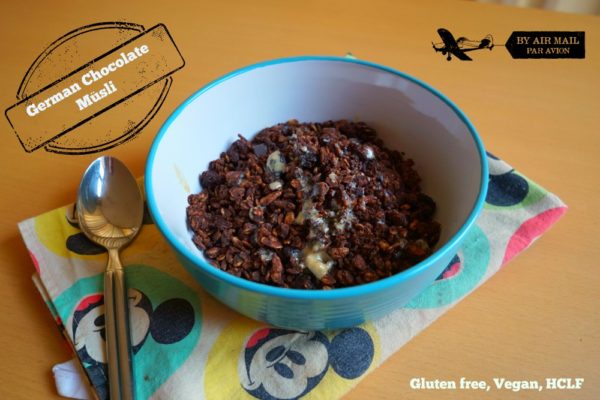 | | |
| --- | --- |
| | |
Start by measuring out your müsli and pouring it into a large mixing bowl.

Drain soaked dates and only leave as much liquid as your blender needs to blend them into a paste. Blend and add to the müsli.

Now add all of the remaining ingredients except for the dark chocolate.

Mix everything thoroughly and spread flat on a lined baking pan. Bake at 150 degrees (300 fahrenheit) in the fan setting for 45 minutes. This is how long it took for me to bake to crispness without burning. Do keep an eye on it!

Once the müsli is crispy, take it out and leave it to cool. When it is almost completely cool, mix in the chopped chocolate so it melts just a little bit to stick to the müsli. Let the müsli cool completely before storing in an airtight container.
Be sure to store this in an airtight container! So far the Müsli has lasted a week in my house but it is almost gone and won't last long enough to make more observations! ?